回憶在聖瑪莉森林學院的交換學生生活 鄧安茹An Ru TENG 2009-2010
The Best Experience ever -- Strolling in the Woods
The summer in 2009, it was humidly hot in Taiwan. The ten girls from the
Providence University gathered at the spacious hall of Tao-Yuan Airport, excitedly
chirping their anxiety about the coming long flight and what they were going to
encounter in a foreign country. Some of them shared information they collected
from other former students, and some awed at what they heard. Girls' faces all
glittered as if they expected their luck in the USA. They all knew it was
a precious chance and they would remember it in entire life. I now confirm the
fortune is huge, the precious experience is worthy great appreciation.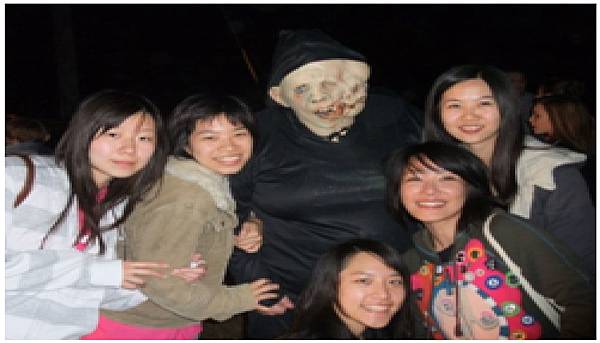 SMWC's the most beautiful campus by four seasons
四季分明的美麗校園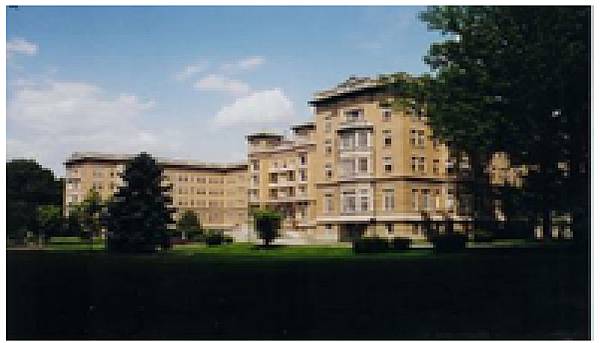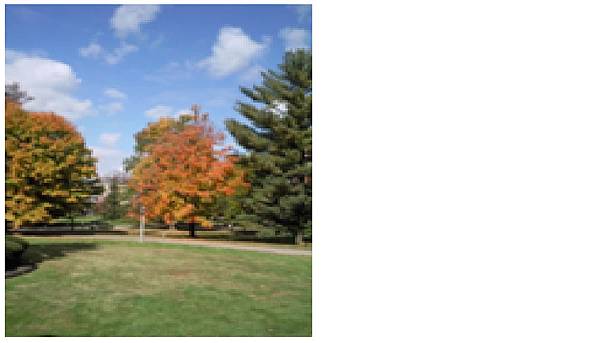 As soon as we arrived, we joined the ten-day orientation with other freshmen
in SMWC. It was a friendly, interesting, well-organized effective training to learn
about the campus and the Woodiers! What a cute nickname for the girls
who study or studied in Saint Mary-of-the-Woods College. SMWC is the
Nation's Oldest Catholic Liberal Arts College for Women established back to
1840, it has been offering prestigious education programs for women during
the long period of a hundred and seventy years, since then the limestone
buildings have been standing tranquilly and saintly in this campus surrounding
by the beautiful nature. I was and am proud of being a Woodier, with the
privilege of indulging myself in the peaceful academic atmosphere, and of
inhabiting in the over one-hundred-year-old luxurious buildings where were
always warm during the freezing wintertime.
當我們到達時,我們參加了SMWC的大一新生為期十天的新生训練 – 有趣的培訓,
讓我們了解校園和Woodiers!Woodier 是聖瑪麗學院学生的可愛的綽號, 就是住在森林裡的人。
聖瑪莉森林學院創立於1840年,至今170年是美國歷史最悠久的女子高級學府。
At the rear area behind the campus, there were a cherry orchard and
horse stables where the famous horse-riding course drilled. It was a
beautiful path from the dormitory to the stable and to the lake, I
called it 康莊小道。In summertime before November, the sun
lingered later than nine o'clock. I usually spent an hour after supper
strolling on 康莊小道; beholding trees, animals, and fair high sky,
my stress diminished as the wind blew it away.
Autumn, I stroll in the woods;
Eyes are never so greedy,
Heart runs crazy.
Who says autumn is cool
I say it's hot
So cool.
There, the blaze
of burning bushes amazes my eyes;
Nature is bold,
Not shy at all.
Trees, I long to know your name,
For I'm a pilgrim of yours without shame.
When the harvest autumn just came, the trees grew boldly colorful,
multiple-green, yellow, orange, red, burgundy, etc. tangled with
each other contending in the beauty competition. Meanwhile, the
student committee would hold Barn Dance. It was such a
cheerful occasion in which students from nearby colleges would
come. Students were all done up with American West cowboy
style – checked shirt, jeans and boots. Boys and girls met one
another and then practiced folk dance on the sand ground
together. We enjoyed the western country songs and lined up
dancing folk dance. There was also a machine bull; some students
dared ride the machine bull and the audience was cheering up as
the rider was being flung off the back of the bull. It was so fun.
當秋天來臨,樹葉顏色呈現大膽艷麗,綠色,黃色,橙色,紅色,
酒紅色交織糾結爭相競艷。這時節,學生委員會舉行穀倉舞會。
附近的大學的學生會來SMWC參加這個歡快的場合。同學們
都打扮成美國西部牛仔風格 - 格子襯衫、牛仔褲和靴子。男孩
和女孩彼此會面,然後在沙地上跳起民族舞蹈。美國鄉村歌曲、
排列式舞蹈, 還有機械牛, 勇敢的學生騎上機械牛,然後牛會開
始瘋狂的扭動, 當選手被牛甩下, 觀眾大聲歡呼起來, 非常有趣。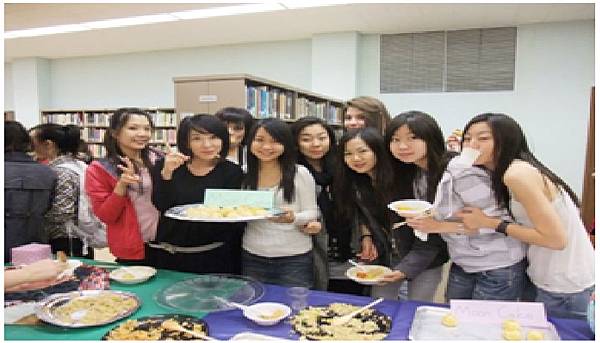 Awesome Harvest
Royal burgundy, quiet brown-red
Cheerful orange, flamboyant yellow,
And ever green here too.
Five colors weave into thousands of possibilities.
Take pictures!
The woods would never the same;
In a minute leaves already falling, trembling
In the wind.
Wind is now the proudest, happiest guy
It sings every day and night
Rapping about the harvest.
The girl fell in the spring
She smiled as the buds popped out
Within the summer someone broke her heart
She cried burning hot.
Burning hot; but
Thank God,
She's cured by autumn's hue
Gazing the richness of the nature
She lets her last tear drop.
Autumn has warmed her ever
She kneels down to God
Holds up her heart.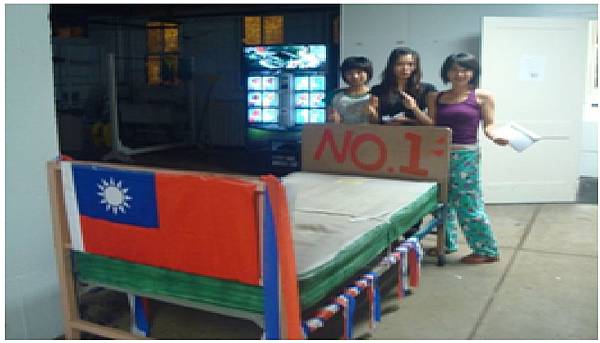 Elite Education
一學期四十萬台幣的精英教育
The tuition for one semester in SMWC was around fifteen
thousands US dollars. For four-year-tuition, it was a huge
amount. I would not take the chance for granted but
appreciated the benevolence of SMWC, in which the
school provided international students this rare opportunity
without paying their tuition. What does the elite education
look like? Notably, this education is designed to suit individuals.
The classes were well conducted in small class -- the
maximum of the number of twenty students. I had several
courses that only contained about 5 students. Students had
plenty of chances to speak up their thoughts and teachers
noted comments for each student frequently. The learning was
solid and sound to work out individual progress. In my opinion,
for succeeding in the class, preview text was crucial, and
students would feel bewildered and embarrassed if they didn't
read the book following the syllabus.
一學期的學費在SMWC是大約一萬五千美元。四年大學的學費
是個驚人的數字。 感謝SMWC對國際學生提供這個難得的機會,
無需支付他們的學費。精英教育是什麼樣子?值得注意的是,這
種教育是為了滿足個人。 進行小班制 - 最多二十位學生。我有
幾門課程中,只有約5名學生。學生有充足的機會踴躍發言他
們的想法, 老師也會對每個學生的意見做出评論。這樣學習了堅
實和良好的工作出個人的進步。在我看來,課前預習是至關重要
的, 如果沒照著教學大綱預習, 學生上課時會無法瞭解和感到尷尬。
Secondly, professors didn't give long lecture in classes;
students were the ones who were in charge of speaking.
This teaching method was quite different from the ones
I've had in Taiwan. I must adjust myself to an active
way of learning; in other words, I needed to preview the
covering chapters carefully before class. How did this work?
In the first class, professors gave out the exact-detailed
syllabus and on the syllabus students were usually
assigned homework for each class. Therefore, students
had to read chapters or write a paper before class,
and then in the classroom, teacher would not go through
the full textbook but evaluated what you interpreted about
the content and context via your speech and your papers.
Yet, students couldn't relax afterwards since there were
quizzes, presentations, midterm and final to require your
reviewing. It was so true about "No pain, no gain."
Every class was indeed a great challenge but the
fruits were sweet. Besides, the professors were
respectful and friendly; they mastered what they taught
and how they best taught, and they respected students
and their individualities.
However, time seemed never enough because each
course required much more time of studying rather than
in Taiwan. The following was the formula: one credit
needed at least three hours for preparation, so 15
credits by 3 times equal to 45 hrs per week. Deducting
attending hours, the study almost occupied my entire
spare time. Anyway, there was always a way out; for instance,
energy drinks like Red Bull or Monster help students
to gain energy for their time-consuming, painstaking study;
I testified they worked well.
然而,在這裡讀書時間似乎永遠不夠。因為每門課程需要比在
台灣更多的時間學習。教授說一個學分至少需要三個小時的準備,
所以我修了15個學分,3倍等於每週 45小時。扣除出席上課,
讀書幾乎佔據我的整個空閒時間。解決方法就是喝能量飲料 ,
這種能量飲品非常盛行於學生,Red Bull和Monster非常有效,
喝一瓶可以撐到半夜四、五點。
For future international students, I would like to
suggest that you do not overload yourself with
too many courses, instead, take minimum requested
credits (usually twelve) and spend time to preview and
review. Consequently, international students could
gain confidence, catch up with the class and make
progress fast enough.
對於未來的國際學生,我建議不要修太多的課程。
採取最低學分要求(通常是十二學分),因為花時間來
預習和複習能幫助國際學生有信心趕上上課進度而且真正有所進步。
One more thing most valuable in this education system
was the internship; SMWC provided many prestigious
courses with internships such as psychology,
education, arts, law, music therapy, equestrians, etc.
This policy had succeeded students' capability at
both job and study, and also helped adjust better in
society soon after graduation.
The variety of cuisine 多元化的美食
Many international students concerned whether
they would adjust to western food, however, most
of international students gained weight after months;
they seemed happy with the food but worries being fat,
and some would find their solution to cook by themselves.
Generally, Taiwanese students all enjoyed buying
ingredients in Asian markets and cooking by their own;
they felt fun and found themselves good at cooking.
Occasionally, they would hang out to Chinese restaurants
with other students from nearby university. In the states,
there were plenty of Asian markets and Chinese food
vendors here and there. Besides, instant noodle was
prevailing in their market not only cheap but convenient
and it was the best homesick comfort. I myself felt satisfied
with diverse cuisines.
許多國際學生擔心是否能適應天天吃西餐,但是事實上
大多數的國際學生幾個月後體重都增加了,大家似乎對
西餐適應良好而開始擔心體重增加太多; 有些人找到自己
的解決方案就是自己做飯。一般而言,台灣學生都喜歡在
亞洲市場購買原料,然後自己烹飪; 他們會很快樂發現自
己擅長烹飪。偶爾,他們會與其他附近大學的學生一起上
中國餐館。在美國, 有許多亞洲超市和中國食品供應商。
還有泡麵不僅價格便宜又方便,想家時就想來上一碗。
我自己很適應的各種美食。
Friends 交朋友
Another importance to live happily in the foreign
country was to make foreign friends. It would help a lot.
International students were often in need of help by
native students in daily life and in study. For example,
transportation! To get a ride will enhance the life quality much higher.
另一個重要因素能快樂地在國外生活就是交外國朋友。
這對國際學生在日常生活和學校學習有很大的幫助。
例如,交通常常需要本地學生的幫助!
當地的朋友將提高生活品質很多。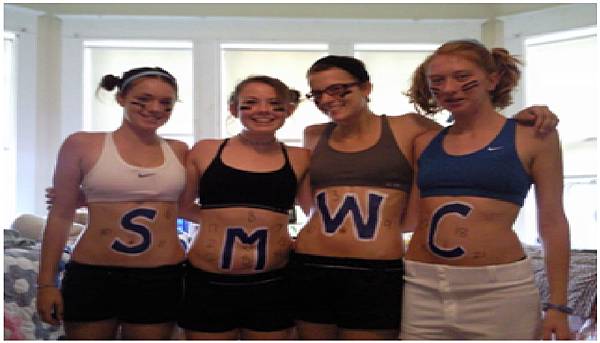 Culture 文化異同
There were much indifference between American
students and Taiwan students, thus it was not
difficult to make friends in the school. However,
there were some cultural gaps that may cause
misunderstanding. For example, within the holidays
American students would invite foreign friends to
stay in their house; once, a Taiwanese girl went to
an American house and found out she had to live
with some dogs in a same house, that she found it
unbearable and she decided to return school earlier.
She asked the American family to take her back to
school, but it was a two and half hours driving and
the American student would not return in two days,
so they asked the Taiwanese girl pay the gasoline
and then they drove her back. The Taiwanese girl
was unhappy about it and after coming back to school
she complained about how terrible their dogs lived
and slept with them and other stuff. Therefore,
I would suggest if you were invited to American
house, it was better to ask some details about the family.
Travel 環遊美國
Since we got the rare chance to come here, naturally
we would like to travel around during vacations.
American is a huge country, but the size "huge" is
abstract, let me measure in number. For example:
our school SMWC is in the so-called Middle West,
at the border of Indiana State near Illinois, three
hours driving to Chicago. Once, my Korean
friend Euyoung and I took American classmate's car
for one hour to the nearest city where we were able to
take train to Washington DCfor next seventeen hours
non-stop train to DC. We were exhausted because
the Armtrek (American railroad company) was not
comfortable for such long hours. Another time, two
Taiwanese girls and I drove to Miami and we kept
driving for twenty hours only with brief stops for gasoline
and restroom. We had two drivers; I advice if you are
the only driver, you better not try to drive that far.
Anyway, the travel was worthy; we had a great time
on the way and Miami beaches. In addition, we did
learn much how to book hotels online and get a good bargain.
由於我們得到了難得的機會來美國,我們自然想在假期
時旅遊。美國是一個大國,但"大"是抽象的,一定要
實際走走才能體會美國領土的遼闊。SMWC是在中西部,
位於印第安納州和伊利諾伊州邊境附近,三個小時的車
程到芝加哥。有一次我和我的韓國同學要到華盛頓DC
見識白宮,我們得先搭美國同學的車一小時到最近的城市,
再搭十七個小時火車到華盛頓特區。在長途火車很不舒服
Armtrek美國鐵路公司)。還有一次,我和兩個台灣女孩
租車去邁阿密,除了加油和上廁所我們沒停地開了二十小時。
我們輪流開,如果只有一位駕駛,那真是累人。然而,這些
旅遊是非常值得的,見了世面也學到很多如何上網預訂酒店
得到最好的價格。
All in all, this experience of studying abroad had
changed my conception and my life. As now I'm going
to graduate in June and also start to write my résumé,
I found the experiences enhanced my capability and
confidence; still, it also get extra point as applying for
graduate school abroad.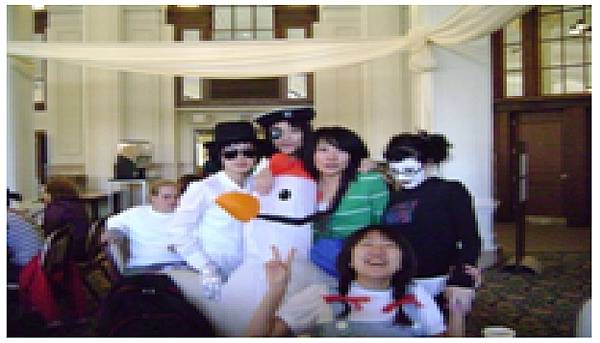 這個留學經驗改變了我的許多觀念也給了我機會了解
不同的教育模式,更結交了許多真正的好朋友。今年六月
我即將畢業,現在開始寫我的履歷,我發現留學經驗使
我更有自信面對未來的工作或申請國外研究生。非常感謝"學海飛颺"計劃。